The brilliance of bobble water bottles
Since the bobble bottle's introduction in 2010, millions have been sold worldwide. Bobbles are currently available in more than 35,000 stores, three dozen countries and on five continents. The secret? A good looking bottle that motivates environmentally-friendly drinking. Read on to learn more about bobble, and why we love them so.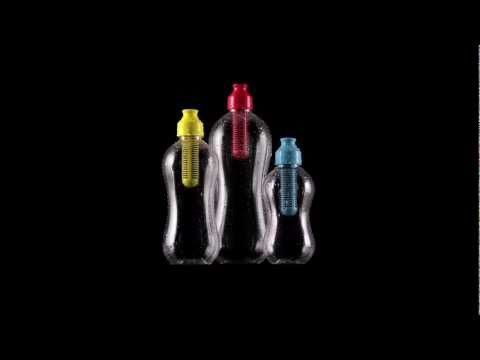 A short history of filtered water
Clean and drinkable tap water flows into the majority of homes in industrialised nations but despite pretty good quality and taste, it remains a drink of last resort. Instead, single-serve water in throw-away bottles has exploded in popularity and while it may be trendy, it's polluting the environment and harming our seas and wildlife. Estimates suggest that the world consumes more than 200 billion bottles per year…
The inspiration behind bobble
Bobble founder and CEO, Richard Smiedt is a born and bred South African guy. Back in 2008, he and his wife, Stephanie, were visiting Asia for product development when they walked by an open field piled sky high with plastic waste. The couple felt compelled to do something and turned their attention to plastic water bottles. If education and the provision of alternatives had worked with plastic bags at the checkout line, why not bottles?

"We believe in design with a purpose. Our first product, bobble, effectively pioneered a new category: personal, portable water filtration. bobble is a reusable, filtered water bottle engineered to change people's drinking habits by slowing the mass consumption of single-serve water bottles" - from bobble's mission statement.
The secret's in the carbon
The invention of bobble's portable carbon filter was a milestone. Carbon filters are a proven, powerful chemical absorbent. As water passes over them, the negative ions of contaminants (like chlorine) are trapped by the carbon granules yielding a cleaner, crisper taste.  All three members of the bobble family were designed by industrial designer Karim Rashid and the one-size-fits-all filter nozzles come in a range of colours.
available in three sizes (385, 550 and 1000ml)
made from FDA approved Post Consumer Recycled (RPET) material
filter cap, housing and carbon filter are all recyclable
Phthalates, BPA and PVC free
great for on-the-go refilling at work and at gym
The bobble filters need to be replaced every 2 months (which works out to about 150 refills of the 1 litre bottles and 300 refills of the smaller sizes). Before use, new bobbles need to be filled with water and gently squeezed until empty to run water through the filter and remove any loose carbon.
bobble for little folk
bobble released a 385ml bottle especially for kids, informally dubbed the 'mini bobble'. With a range of multicoloured nozzles and a smaller size body to fit little hands (and lunch boxes) it has been thoughtfully designed to make hydrating more fun and even comes with four playful stickers for decoration and personalisation.

Make a water statement
bobble bottles enable consumers to make "a visible statement about their belief in functional, ecologically pure business practices" and enjoy as much filtered water as they please with a clear (and trendy) conscience. The success of the bobble bottle in just two years has already helped to keep many millions of discarded plastic bottles out of the environment.
Three cheers for the Smiedts
Richard Smiedt has been named as a finalist in the Ernst & Young Entrepreneur of the Year® 2012 (New York area) and the Smiedts' design business - Move Collection LLC - has it's sights set on more products like water bobbles in future (watch a video interview of Stephanie Smiedt on FoxBusiness).
"From the moment of launch we've been fielding inquiries from every corner of the world. bobble is such an intuitive and clever concept that many wonder how it took this long to become a reality. We had the same feeling. It took us two full years to reach this point, and we were operating with a sense of secret urgency the entire time. But, thankfully, we've arrived and have exclusive rights on the patent – and believe bobble's popularity is poised to explode." – Richard Schmiedt.
A great product and it protects the world with every sip? Raise your hand if you love a win win. We sure do.
Browse our selection of bobble bottles.