Yuppiechef tools on Top Billing
If you were watching SABC3 last night at 8pm, you may have spotted some of our kitchen tools in the hands of Top Billing's Janez, who visited Yuppiechef HQ a little while back. He spent some time in our test kitchen with Shane brushing-up on his kitchen gadget knowledge.
Janez was hoping to treat his fiancé to a gourmet picnic, but found the contents of his fridge sadly wanting (apart from his mother's lasagne from 2011). He asked Shane to help him out with some time-saving, picnic-perfect kitchen gear. Here are the mighty tools they tested together:
1. Mode Fridge Monkey
Simple, but one of our top sellers, this little rubber mat stops bottles and cans going for a ride in your fridge.
2. Zoku Quick Pop Maker
Ice pops in seven minutes? Sounds like Christmas. Get your hands on South Africa's favourite ice lolly maker.
3. Kitchen Craft 5-Blade Scissors
One snip makes five, teach your herbs a thing or two and save oodles of time.
4. Kitchen Craft Avocado Holder and Saver
If you like to eat whole avocados at a time this is probably not for you. But for the rest of us veggie mortals, keeping half for later in this airtight saver is a great idea.
5. CorkPops Wine Bottle Opener
Pop goes your wine bottle. Turn wine moments into champagne moments with this sneaky pressurised opener (no damage to the bouquet, so no worries there). Refills for Cork Pops also available.
6. FusionBrands Ice Orb
Fill with water, freeze and you'll have an on-the-go bottle cooler and ice bucket (with built-in ice blocks). Nice, hey?
7. Chef'n Garlic Zoom
Zoom your garlic to bits in this clever tool from Chef'n and you'll have finely chopped garlic pieces in next to no time without aromafying your fingers or chopping board.
8. Joseph Joseph Catcher Citrus Reamer
For squeezing juice into batter or sauces this clever tool catches pips before they fall. High five, Joseph Joseph.
9. Lékué Silicone Makisu Sushi Mat
Sushi rolling at home can become a bit of a tangle if you go the bamboo mat and plastic wrap route. A silicone sushi mat? Why didn't someone think of it sooner? Easy to use and clean, and great for sushi-making beginners.
10. Dreamfarm Scizza Pizza Cutter and Lifter
Is it a bird? Is it a pair of scissors? No, it is the Scizza, Dreamfarm's answer to the age old challenge of pizza slicing. Go back in time, give this to an Italian and you will be forever praised.
11. Global Yanagi Sashimi – Sushi Knife 30cm G-14
To make sushi, you need a sharp knife. There are no two ways about it.

12. Epicurean Gourmet Series Slate Core Cutting Boards
And finally, gone are the days of fear when putting raw meat or fish onto wooden boards. This composite material protects the surface from absorbing germs, and it can go in the dishwasher.
Our thanks to Top Billing, for including us in their bag of tricks. If you'd like to watch the full 8-minute insert, here you go: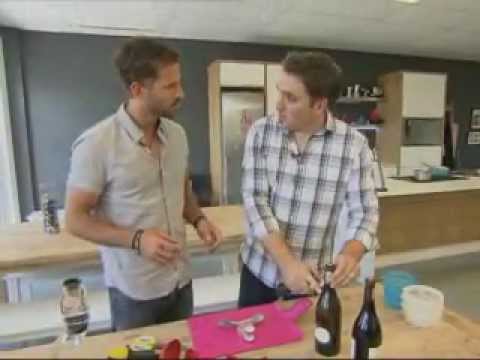 And, if you'd like to win a R1,000 Yuppiechef voucher, enter their competition running on our site (entries close 18 May). Onwards and upwards.
* Top photo from Top Billing